Paddleboarding is an enjoyable way to spend time outdoors. This review will introduce you to the Tower Xplorer 14' inflatable sup. It's a great option for paddleboarders looking for stability from their stand-up paddleboard so that they can go the distance.
I was looking for a paddleboard that could carry some extra weight for longer distances, fishing excursions, or multiple paddlers. The Tower Xplorer 14' inflatable paddleboard strikes a great balance of maneuverability, speed, and stability. And since it deflates and rolls up into a compact package, this SUP is worth looking at.
I'm going to talk through the build and handling of this SUP as well as some of the features to highlight. Then, I'll discuss the value. You'll come to see the rugged nature of this stable yet fast paddleboard and why it's a great pick.
Build and Handling of the Tower Xplorer 14
The Tower Xplorer 14' inflatable paddleboard is made with military-grade PVC and drop stitching. It weighs in at 33 pounds but has a carrying capacity of up to 700 pounds. It's a tough, durable, and well-built option for your paddling needs.
This is the largest board in the Tower SUP lineup. The dimensions of the board are 14' x 32" x 8". The length of the board makes it fast and the thickness gives it that extra weight capacity for your stability needs.
Some people have concerns that inflatable paddle boards pop easily but in fact, this is a tough and rugged board so leave your fears behind. These inflatable paddle boards won't burst and in fact, they run over it by a car during testing. Durability is not an issue and in fact, you don't have to worry about scrapes and dings like you would with a hardboard.
When it comes to storage, the board rolls up like a sleeping bag to a 1' by 37" extremely compact package. This makes it fairly easy to store and transport despite not having a backpack or case for it. Since cold temperatures won't bother this paddleboard you can even leave your inflatable sup outside, however, it is best practice to protect it from the elements such as the sun while storing it.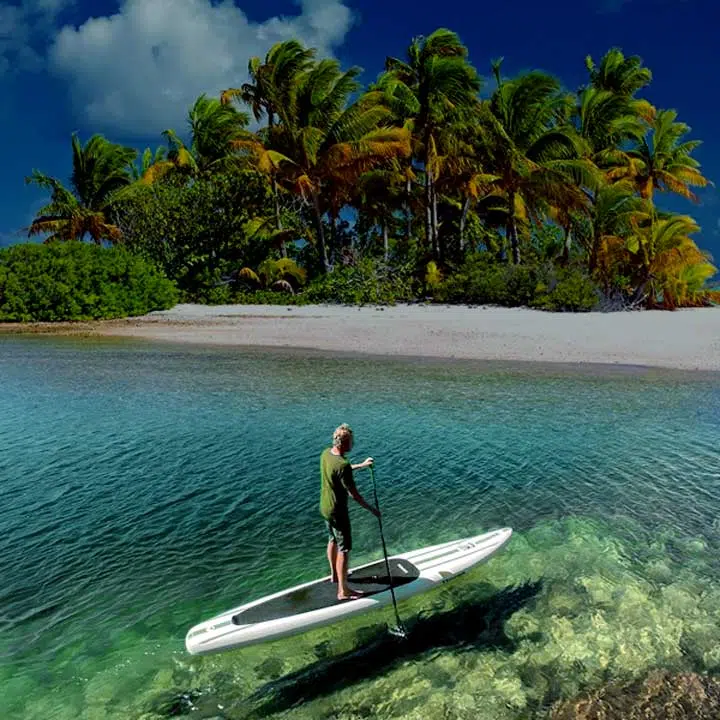 The features of this board that we'll discuss next result in both fast and stable handling. That combination is great for touring with fishing gear or other cargo. It may seem heavy but that results in superior quality.
Features of the Tower explorer 14' inflatable paddleboard
14' length and 8" of Stability
The 8" thickness of this board sets it apart in terms of stability. Long paddle boards are great for speed and glide and the 8" of thickness gives it that extra stability we're looking for. All that and it rolls up to the size of a sleeping bag.
Single Fin
The Tower Xplorer 14' SUP comes with a single fin setup. The fin is secured with an attached pin so tools are not necessary for removing or attaching the fin. The single fin setup provides speed and control.
Transport Handle and D-ring
There's a useful handle at the center of the board that you can use to transport the SUP once inflated. Additionally, there's a D-ring on the front and rear of the board. The useful d-rings can be used for towing, mooring, or attaching a leash.
As I mentioned, the paddleboard does not come with a backpack but since it rolls up to the size of a sleeping bag you can easily throw it in the back of your car. Compare that to transporting a kayak, inflatable paddle boards don't require any sort of roof rack transporting.
Value for the Price of the Tower Xplorer 14 Inflatable Paddle Board
At under $1000, the Tower Xplorer 14' SUP accomplishes a lot for the money. It doesn't include a backpack but beyond that, it packs a big punch for the price in terms of stability and durability. You even get an adjustable aluminum paddle, high-pressure hand pump, and the detachable SUP fin.
What you don't get is the leash and a travel bag. While it's compact, it's also heavy so that may impact if it's the right board for you. A bigger board is harder to handle for smaller paddlers but great if you're looking for a fast and stable board.
When it comes to the question of if inflatable SUPs are worth it, my answer is yes. If you're looking for a large and stable SUP for activities like fishing, the Tower Xplorer 14 is an efficient board that can help you accomplish your goals.
You might look elsewhere if the Tower Xplorer seems like more than what you need. For example, there are some great cheap kayaks for beginner paddlers if you're just learning how to kayak or paddleboard. Regardless, paddling on the water is an awesome experience whether you're kayaking in Florida or on a SUP expedition in Colorado!
Lastly, paddleboarding is a great form of exercise. If you consider that the experts say that you should exercise by doing something you love and that paddleboarding has the additional benefit of being something you do out in nature, it's an awesome sport to consider. An hour of standup paddleboarding can burn 300-400 calories making it a great choice for your active calorie goals.
FAQ
Is the Tower Xplorer inflatable SUP good for the ocean?
Absolutely, due to its thick and sturdy drop-stitch construction, this makes a nice durable and stable board for the ocean. However, it is not the best option for harsh ocean conditions with choppy waters. Think of it as a great option for calm ocean days with relatively flat water.
Is it OK to keep an inflatable SUP inflated?
It is definitely OK to keep your inflatable SUP inflated and it might be advantageous to do so if you live close to where you are paddling. According to the Tower Paddle Boards website, they keep their demo boards inflated for months at a time. As we've learned, these boards are very durable therefore you don't always need to deflate the paddleboard after use.
Do inflatable paddle boards lose air?
Inflatable paddleboards don't lose enough air to compromise the integrity of your paddleboard. According to the Tower website, if you leave your SUP inflated for 10 months and only lose 1-2 PSI. You can always top off your board before use.
How long will an inflatable SUP last?
It's hard to say how long this inflatable SUP board will last but the more durable the build the more likely your board will outlast the averages. Tower paddle boards all have a 1, 2, or 3-year warranty. The Xplorer 14' comes with a 2-year warranty as one of the premium boards.
Conclusion
In conclusion, the Tower Xplorer inflatable SUP is a stable choice for your paddleboarding needs. As you've seen, Tower Paddle Boards are built with incredible attention to both durability and stability. It also isn't lacking in the speed department especially when it comes to inflatable boards.
All you need for a great day on the water is a nice paddleboard with an adjustable paddle. Beyond that, you're getting quality military-grade material and incredible rigidity.
While it might not be lightweight, it's definitely a compact option making it convenient as well. If you're looking for a board to fish from or carry extra gear on, this is one to check out.