Few tools are as crucial to an outdoorsman as a well-made, durable hatchet. They are lightweight, compact, and versatile, making the tool a must-have for survivalists, preppers, and campers.
Regardless of if you need a tool to take into the woods with you for a weekend adventure or need another item for your bug-out bag, finding the best backpacking hatchet is a must. When it comes time to start a fire and cut kindling, you must have a well-rounded, durable hatchet that is easy to use. It would help if you also had a tool that can split logs and cut branches. Therefore several things must be considered.
Keep reading to learn more about choosing a hatchet and my top picks.
Best backpacking hatchets
Best overall
High quality carbon steel blade.
Robust hickory handle.
Balances affordability and quality.
Best American Made
Well balanced.
Ergonomic grip.
Handle and head forged in a single pice.
Best Compact Hatchet
Easy to carry.
Easy to sharpen.
Belt loop included.
Selecting the Best Backpacking Hatchet
Choosing the right hatchet for your backpacking needs may take time if you aren't sure what to look for. To make sure you do not spend too much time browsing online, trying to learn everything you need to know, I have created an extensive buying guide. I have taken time to highlight all the must-have features, including the differences between a hatchet and ax, different types, how to use them, and more.
What Is the Difference Between an Axe and a Hatchet?
It's not uncommon to mistake a hatchet for an ax and vice versa. That's because they are similar in use and looks. While this is true, there are some definitive differences between these. For example, a hatchet is essentially a mini ax. It can be used on the one hand and helps with several tasks.
Axes are almost always bigger than hatchets, and most require you to use two hands. They are also used for bigger jobs, such as felling trees. If you know what a tool is needed for, you can easily decide on the best backpacking axe or hatchet for your adventures.
Types of Hatchets to Consider
You will find three options of backpacking hatchets:
1.       Camping
2.       Survival
3.       Tactical
Camping hatches are best for beginners. They are usually mid-size and designed to handle smaller tasks such as hammering in your tent or splitting wood around the campfire. Survival hatchets are ideal for outdoor survival needs and bug-out bags. These are designed to be multi-functional, with the ability to open cans, help build a shelter, and more. Tactical hatchets are typically thinner than the other options, which helps improve swing precision.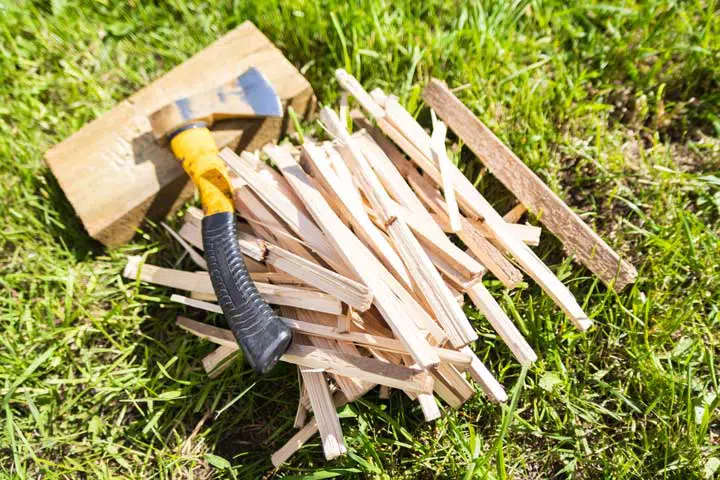 Hatchet Weight Considerations
With any backpacking gear, weight is essential. Because these tools are available in different sizes, it is best to know about the weight before buying. This information helps you decide between one hatchet or another and figure out if the total weight in your bag will be too much.
Even if a tool is useful, if it weighs down your pack, you will get tired before you get too far.
Head Size Considerations
This feature plays into the total weight, too. However, the head size does not just impact how easy (or difficult) it is to carry the tool and how easy it is to use. Usually, hatchets with a head size of approximately 10 to 12 inches will be lightweight and easier to manage. If you want something that is easy to swing, try to find a hatchet with a head in that size range.
Tang Considerations
If you are a beginner, you may not know all the related "jargon." If this is the case, keep reading.
Here, "tang" means the back portion of the blade that extends down and meets the hatchet's handle. Every tang option offers some pros and cons. For example, a full tang, which is one that extends the entire width of the cutting tool, offers a reliable and sturdy tool; however, this is only true if they are made of high-quality materials.
A partial tang is much narrower. It is more lightweight, too. Applying too much force with a partial tang is not recommended, as it may damage or break the cutting tool.
The Right Handle Material
When choosing a hatchet, you may get so focused on the head's material that you don't think about the handle. However, it would help if you looked at the handle, too. Different build designs and materials will impact how difficult or easy it is to swing the hatchet.
Some hatchets are designed with fiberglass handles, which are durable and help absorb shock well. While this is true, fiberglass may not be as comfortable to hold and use as other material options.
Another popular material for hatchet handles is wood, which absorbs shock as well as fiberglass (if not better). It can also handle different temperatures well. Both fiberglass and wood may be more likely to break than some of the other materials. While this is true, you can easily replace a broken handle.
Leather is commonly used for hatchet handles, too. It offers a better grip if it is adequately sanded. Also, if you maintain and care for the leather handle properly, it will last for a long time.
Hatchet Cost Considerations
If you are like most, the hatchet's cost is an essential factor when purchasing backpacking gear. It would help if you considered the cost of all your other equipment, along with the hatchet you have chosen. However, if you choose the cheapest hatchet you can find, you may have issues with quality and durability in the future.
You can find higher-quality hatchets at several different price points. However, usually, these will cost more. Keep in mind, by investing now, you can have a hatchet that lasts for several years, rather than one you have to replace regularly. You should also look for more well-known brands that have a good reputation, that offer reasonable prices.
Sheath or No Sheath?
Almost all hatchets come with a sheath. Those that don't will likely have options you can purchase separately. Sheaths offer many benefits. For example, it keeps you safe and avoids accidents when the hatchet is not being used. The sheath also protects items you have inside your pack.
Another benefit of the sheath is that it keeps the hatchet's blade safe from snagging on something. You can find these made from several materials, ranging from nylon to leather. Leather options offer a higher level of durability; however, a sturdy, well-made nylon sheath will get the job done. If you are handy, you can even design and make your own hatchet sheath.
Purchase Eye Protection
You might not think much about safety gear while backpacking. Having some wilderness first aid knowledge and supplies on hand is usually a good idea, of course. But part of backpacking and going on any adventure, really, is about feeling free and closer to nature. Besides, having a hatchet means you're able to do everything from chopping firewood to building a shelter.
Still, like anything else, using a hatchet could wind up involving a bit of risk. You'd expect wood chips to fall straight to the ground, but on the off-chance that the wood splinters, eye protection can help you avoid stray chips.
Some backpackers might prioritize carrying eye protection in their packs, just in case. A more functional alternative is a pair of sunglasses to help block UV rays and keep the dust out of your eyes while hiking and chopping trees with your hatchet.
Selecting the Right Backpacking Hatchet
I took my time to review my top picks of backpacking hatchets and explain why I chose the ones I did. However, to be clear, I'm going to cover a few more things.
My goal was to provide you with a good understanding of all the features and components when it comes to making a purchase and help you save time.
The 5 Best Backpacking Hatchets
Now that you have a good idea of what features to look for and consider, it is good to learn about my top picks for backpacking hatchets. Keep reading to learn what these are and why they are included on this list.
In my opinion, the Hults Bruk Jonaker hatchet is the perfect tool for survival and outdoor use. When sharpened correctly, you can do many camping tasks, such as slicing meats, trimming branches, and chopping wood, easier than you imagined. You can even improvise and use this hatchet as a hammer when necessary.
The hatchet has a smart design, making it a good option for novices and pros. If you are searching for a hatchet that provides fast and light movement, this option is one to consider.
In recent years, the popularity of woodsman hatchets has grown, which is probably why this option has made it on my list. You can use this with one hand, but for more serious chopping jobs, there is plenty of room for both of your hands. If you have a limited budget and have to choose between a full-sized ax or a hatchet, this hatchet offers a smart compromise.
The edge is made of Swedish steel and weighs one pound. The forging process involves striking the ax head several times to help improve the steel's durability and strength. Also, the head's profile and edge are much thinner than other hatchet options, but this is done intentionally – the goal is to get a deep slice each time you swing the tool.
Pros
Compact size allows you to slide the tool through your belt and always keep it nearby.
Ideal tool for processing wood, game, and more.
Easy to sharpen thanks to the forging process used.
Traditional leather sheath included with unique Swedish embellishments.
Belt loop included.
Cons
Not ideal for heavy-duty jobs.
Only serves as a backup hatchet.
If you are looking for a hatchet that is light, compact, and easy to take along wherever you go, this one will meet your needs. In my opinion, it is the best camping hatchet.
The Estwing Sportsman's Axe measures 12 inches long and American made, making it an appealing option in my book. It is forged in one piece from the head to the handle. The result is a more durable and longer-lasting hatchet that I believe you will fall in love with.
If you find it difficult to hold and use a hatchet because of age-related conditions, such as arthritis, this tool distributes weight evenly. Since it is so well-balanced, it provides improved control and reduces cases of fatigue.
When it comes to the hatchet's look, you will find a lacquered leather grip that is shiny when purchased. However, I have found that with extended use, the handle does get a little slippery. You can eliminate this issue by sanding it a bit more, which will create a more secure and stable grip.
For cutting, you have a tempered 2 ¾ inch edge. I believe this makes it relatively easy to use. The ax is sold with a sheath to ensure the blade and your fingers are protected.
Pros
Well-balanced from blade to handle, ensuring effortless use
Curved handle helps provide an ergonomic grip for users
Easy to touch up and sharpen the hatchet's edge thanks to the tempered steel blade
Handle, and the head is forged in a single piece
Made in the USA
Cons
Handle often feels slippery when first using the hatchet
If you are searching for an ergonomic option, this hatchet will be ideal for your needs. Plus, it has a beautiful finish that will add a unique look to your backpacking gear.
The Prandi hatchet is another quality buy when it comes to price and quality. While I recently learned about this company, I have quickly grown to love their products. They are also making a splash in the U.S. market by selling their high-quality axes and hatchets for affordable prices.
This particular tool is drop-forged by hand. While this may not be true for all tools, this hatchet is made of C45/1045 high carbon steel and comes with a quality American hickory handle.
The hatchet measures 15.75 inches and is just 1.8 pounds, making it a good, lightweight option to consider. Also, you can choose if you want to purchase the sheath or not.
While German is included in the name, this hatchet is not actually German – it is an Italian product, and the German reference is for the head shape. This hatchet's versatility is considered "high" because of the balance of weight and height that it combines. Also, the curved blade provides a tool that is great for both big and small cuts.
The hatchet is specifically designed for comfort, and it is a quality, mid-tier option for more casual foresters. If you are planning to do professional work, it may not be able to meet your higher standards; however, for camping and foresting use, this is a great option.
Pros
Blade designed with durable, high-quality carbon steel.
Durable and robust hickory handle.
The handle offers users a smooth and powerful swing with a curved blade to make a quality cut.
Balances affordability and quality.
Cons
More sharpening required for the blade than other hatchets.
Not designed for tackling more challenging jobs.
Needs some finishing work.
The design and manufacturing process makes this a quality, durable, and long-lasting hatchet. Even with the lightweight build, this is a great, comfortable option for casual foresters and backpackers.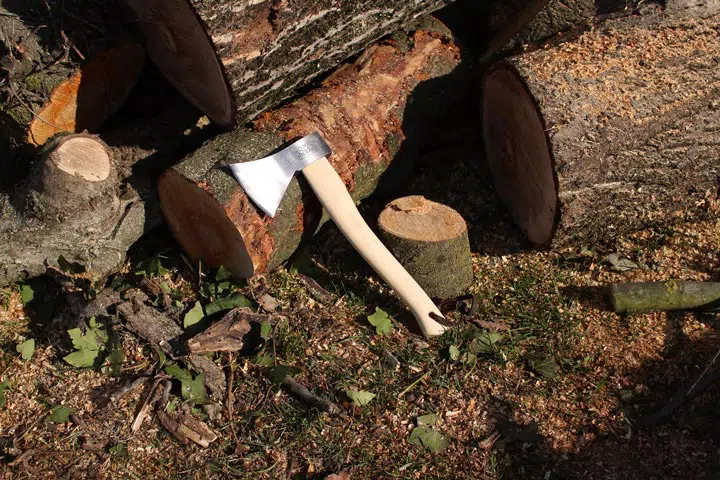 If you have limited space in your backpack, and want to keep the weight down, then the Gerber 9″ hatchet may suit your needs. The small profile and sleek design result in the hatchet weighing just 1.2 pounds.
While the size is small, don't let this hatchet fool you. It works great for splitting small logs to use for firewood, cutting branches, and making kindling. I have discovered from personal experience that the steel blade's butt is great for pounding in your tent pegs – especially if you want to reduce the number of tools you have to carry in your pack.
The head of the hatchet is designed out of forged steel, and even during periods of heavy use, the blade will remain surprisingly sharp. Just a quick stroke using a sharpening puck or sharpening stone will restore the edge.
Thanks to the smaller size of the hatchet, it is easy to handle and use – especially for individuals with smaller hands and children (just make sure they have proper supervision during use). It has an ergonomically designed handle that makes it easy to grab and use.
Pros
Short and compact design at just nine inches long.
Easy to handle for smaller hands.
Lightweight design does not add excess weight to your pack.
The blade has a PTFE coating that helps to reduce friction and produce clean chops.
Slim sheath (included) ensures safe and problem-free transport and storage.
Cons
Requires a much harder swing to generate the same force that is created by a longer option.
When it comes to keeping the weight in your pack down, this hatchet delivers what you are looking for, while providing a good cutting edge and superior durability.
The Fiskars X7 hatchet is 14 inches long and makes a good, all-around choice. The handle is designed of composite material, and it remains strong without adding too much weight to the design.
With 14-inches, you have more force behind your swing, which makes the process of chopping wood much easier. I like handles with curved shapes, I believe it adds more grip, but that is just my personal preference. While the curve is not that big of a deal with an ax, for a hatchet, I believe it is necessary – I like the way it feels on my palm. While the X7 has been designed with quality balance and feels comfortable to hold and use, I still prefer the curve on my tools.
The handle's composite material is extremely strong, and I cannot imagine what you could do to break it. The wedge is slightly narrow, making the butt end a bit narrow too, but I don't think this is too noticeable. It does take up a bit more room than some of the other options reviewed here; however, it is a good, general-purpose hatchet for backpacking and other outdoor activities.
Pros
Designed using composite material, making it lightweight and durable.
Sharp blade manufactured using quality steel.
Well balanced and properly distributed weight to make the hatchet easy to use.
14-inch length helps to generate much more force than the shorter options.
Ideal for chopping small and medium-sized logs and kindling.
Cons
Narrow butt that minimizes the ability to drive tent stakes into the ground.
No curve in the handle, making it a bit less comfortable to use for more extended periods.
If you want a hatchet that will perform when needed, that is lightweight and durable, this one delivers.
My Top Pick
When it comes to ease of use, durability, and affordability, the Prandi German Style Hatchet comes in as my top pick. It offers a little bit of everything that you need while in the great outdoors. As you can see from above, the manufacturer has been working in this industry for years, which means you can count on the hatchet to last. I also find that this hatchet has a comfortable handle and sharp blade, making it great for several purposes.
When it comes to choosing a hatchet, you need to consider all these factors to ensure that you get what you want and that you enjoy the tool now and in the future. Be sure to re-read the information and tips here if needed – this will help ensure you decide that best suits your needs.
My ultimate goal is to help you make the right decision – you can count on these reviews to provide you with insight into these tools and help you choose the best hatchet for backpacking.